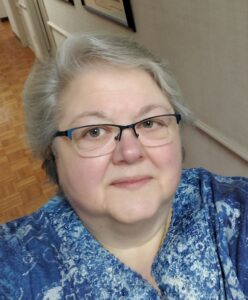 For the first five years after buying the company virtually all customer interactions came through me.  Granted, Vickie was invaluable (as always) with answering questions, handling all shipping and a multitude of other items but the day-to-day "customer service" and definitely the quoting and ordering was all mine.  My lone-wolf status wasn't really by design.  To be honest I didn't really understand my own job so I had no chance of being able to train someone else. After a short while I came to love my relationship with our designer clients and really didn't want to lose that daily touch.
Then one day late in 2021 I met an incredible person  that would change my job and the company for the better.  Introducing Brenda Spence.  Brenda's official title is "Customer Success Guide" which may seem like a really weird title. But you see, I've always felt that the role we play is not only about building a great piece of furniture but also being a partner to our designers, keeping a watchful eye to ensure the piece of furniture that's being requested is going to be successful for all concerned.
That's how I came up with Brenda's title – she is here to help guide you and our team through the hoop jumps, trials and tribulations needed to ensure that the small role we play in the success of your job, your design, your business is award winning!
As for Brenda – if you haven't met her yet you are going to wonder how we ever got along without her!  Not only is she a self-described furniture geek but she has over a decade's worth of experience working at Ferrell Mittman in a similar capacity.  Additionally she is one of the most organized and thorough people that has walked through our door!
Moving forward you will start to see (and hear) a lot more of Brenda and a lot less of me as I turn my daily attention to helping our colleagues on the shop floor improve production times and continually improve quality.  Don't get me wrong – I'm still here and available anytime you need me.  But when you request quotes through sales@barnescustomshop.com or one of our RFQ forms it is most likely Brenda that will respond. And trust me – that means the response you receive will be much better than the one that I would have sent!
Welcome Brenda!