We sincerely appreciate the investment our customers make in fabric for their custom upholstered furniture and hope the following information will help in making decisions concerning the type and quantity of fabric to purchase.
When selecting fabric it is important to keep the following variables in mind. If choosing a fabric that is hard to get or has a very specific dye lot, we recommend purchasing additional fabric.
Please download and fill out The COM Form (below), attach a swatch of your fabric and mail to us before having the mill ship your fabric.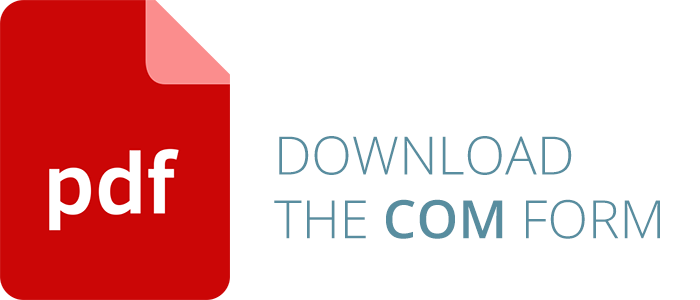 Fabric Quantity
We use industry standards when quoting estimated fabric yardage. Many resources exist online and we encourage customers to do their own research in addition to the information we provide.
There are many variables that can greatly influence the amount of fabric that is needed to upholster a piece of furniture including but not limited to:

Fabric Width
Pattern
Repeat
Stretch
Nap

Many fabrics that look like they have little to no repeat when looking at a swatch can turn out to have a very large repeat, sometimes it is pronounced in the design, sometimes it is something as subtle as the weave pattern. These designs will impact the look of your furniture.
Custom furniture presents its own challenges as a standard pattern does not exist from which to cut and sew the coverings. Occasionally multiple cuts must be made to ensure a proper fit which can increase the amount of fabric used.
BCU does our best to flow match all fabric. This process ensures the highest quality "look" to the finished piece but can also use more fabric than is expected. A perfect match can not be guaranteed.
We always do our very best to minimize the amount of fabric we use which can lead to an overage of fabric of 20 – 30% of the originally estimated amount.
The possibility always exists that we may need to ask for additional fabric.
If you choose to send us less fabric than requested, even if you ask us and we tell you that we will be glad to give it a try - this is not a guarantee of success.  You need to be prepared to send more fabric if we are not able to make work the quantity received.
We will gladly return all unused fabric. Please mark your Purchase Order to indicate your request to have fabric returned.
The yardages indicated in the catalog and on the website are for 54" wide plain fabric. Fabrics with patterns and/or less than 54" wide require additional yardage. Please supply extra yardage and consult with the Ted Scott design team on the recommended quantity.
For a fabric with repeats over 36", please call our office to confirm quantity required.
Note: Add 10% fabric to all yardage requirements for COM fabric to be quilted.
Note: Add 20% fabric to all yardage requirements for COM fabric to be tufted
Ted Scott Designs holds no financial responsibility for fabric overages or shortages.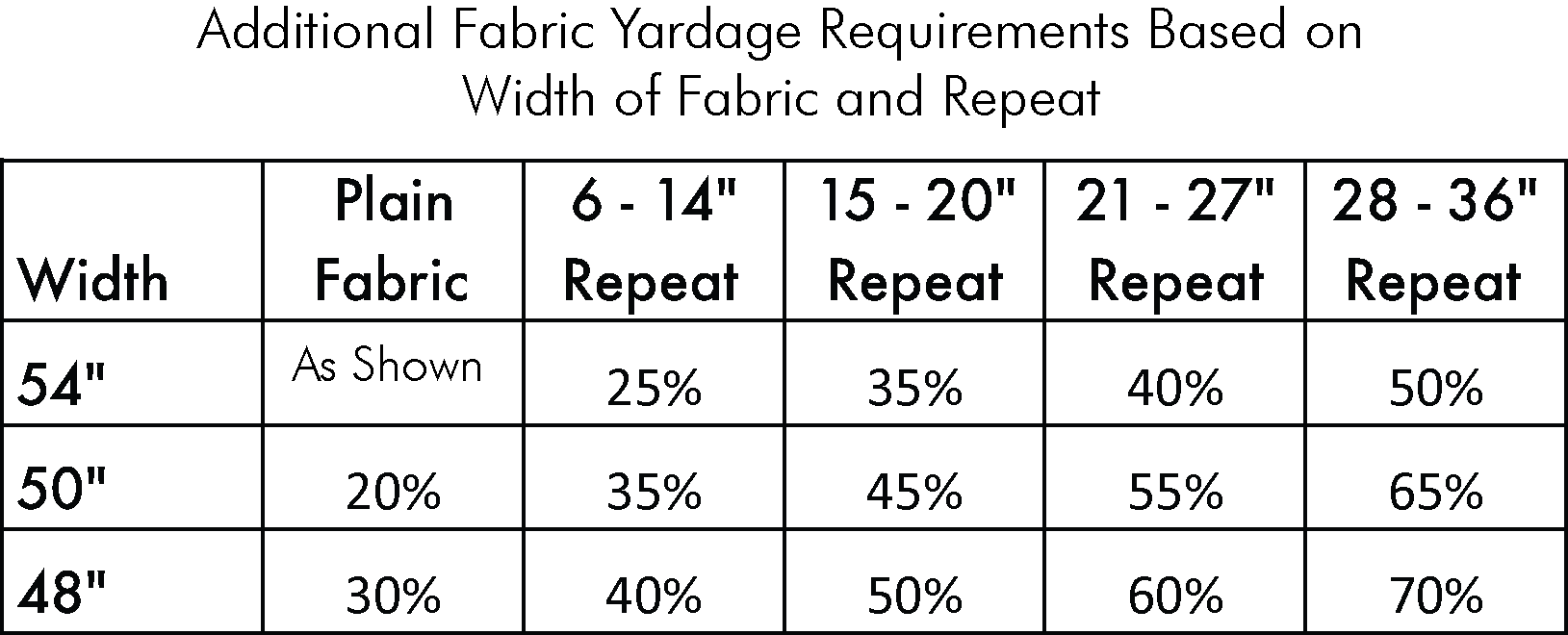 Cutting Instructions, Face Side of Fabric, Top and Bottom Design
Customer must specify the Face Side of the fabric and which end is the top
If customer fails to specify face and direction, BCU reserves the right to determine this information and will not be held responsible for any errors or differences in opinion
Please specify whether you want your fabric railroaded. If fabric is not railroaded, seams may be required in areas that affect the look of the finished furniture
BCU does our best to maximize the usage of the fabric while presenting any styling, detail or design in the best possible position. If customer requires a specific placement of any design element, color, emblem, texture, etc., a detailed photograph of the fabric with specific information on placement must accompany the purchase order. Without specific direction BCU will use its best judgment on placement and holds no responsibility for the cost of the fabric, availability of the fabric, time to complete, etc. associated with placement of fabric. If customer fails to provide specific detail on the placement of fabric and disagrees with the placement selected by BCU, the cost of replacement fabric, shipping as well as work to replace the fabric lies wholly with the customer.
Additional Information
Certain fabrics require additional charges including but not limited to surcharges for whole hide leather, costs to surge fabric and costs to back fabric. Customer will be advised before any charges are assessed.
We offer a "Read My Fabric" service where customers may have a memo sample of their fabric sent to us and we will review it for elements that may impact the final piece of furniture. Customers are urged to assess their own fabric and to review the fabric with the manufacturer however we will provide our opinion on how the fabric will lay, any patterns that are visible on the sample, the thickness and texture of the fabric, stretch, etc.
Fabric not marked for return to customer will be held for 30 days then disposed of.
Purchase Orders and COM Decorative Trim Identification
For timely scheduling and production of your order, please make sure all COM and decorative trims have proper identification so we can match it with your purchase order. Your purchase order must include the following information:
Interior design firm's name, address, phone, fax, cell phone, and email address
Your purchase order number and client name
Fabric supplier's name
Fabric pattern(s) and color(s) identification number
Decorative trim supplier's name
Decorative trim identification number
Yardages sent for each fabric and decorative trim
*Special Note
Fabric estimates are just that - estimates. For custom items, the first time we build your item is the first time we will have ever built that item.
We use industry standards to estimate the amount of fabric needed however every piece of furniture, every design and every piece of cloth is different. If your fabric is difficult to obtain, slow to ship, the end of the available bolt, etc. you are strongly encouraged to send us 15 - 20% more fabric than requested. We will gladly return all unused fabric to you. We are not responsible for additional costs and/or delays should more fabric be needed than that which is supplied. Keep in mind - a few yards of extra fabric can be used for throw pillows or an ottoman.
More importantly, if something happens to your item in shipping or if the dog or a glass of red wine finds your furniture - having a few extra yards of fabric can mean the difference between repair and complete reupholstery of the piece.